South Africa
I visited South Africa for the first time in 1997. The country, it's people, animals and countryside grabbed my interest. Since then I try to return to the "mothercountry" at least once a year. I've visited mainly the Western Cape (Cape Town, Winelands, Cederberg, Overberg, Karoo, Little Karoo and the Garden Route).

On Feb. 2001 I was informed that the Cape Peninsula National Park (

CPNP) has announced that they want to kill the remaining few Tahrs (Tibetan mountain goats) on Table Mountain in a very brutal way. The mountain goats are an vulnerable species listed on the IUCN's

Red List. In 2000 they killed 57 of the approximately 100 tahrs which, as a species, have been on Table Mountain since 1936. Because they are not indigenous to the park they kill them without enough scientific research and looking for alternatives.
26.9.2001 Bad news again: Minister Valli Moosa, of Environmental Affairs and Tourism, and SANParks have refused the Friends Of The Tahr application for an extension of the moratorium on killing the Tahrs. Despite of the fact that James Innes confirmed in the last 2 weeks that he can capture most of the Tahrs without killing them and the Indian delegate, Mr. Vishwas Sawarkar, that India wants them to be relocated to India.
29.6.2004 We've lost the fight against cruelity. SANParks has killed almost every creature of this endangered species. Now don't tell me no one is to blame. We know exactly who are responsible! Read more about this story of cruelity, violence and inhumanity.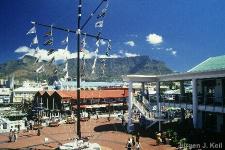 I finally managed to scan the slides that I took on my travels to South Africa and here they are. I used my Nikon FA with the following lenses: Vivitar f3.5-5.3/28-200mm, PC Nikkor f3.5/28mm, AIs Nikkor f1.4/50mm, AIs Nikkor f1.4/85mm, AF-DC Nikkor f2.0/135mm and a Sigma APO f5.6/400mm.
Telephoto lenses are a beautiful thing for wildlife photography, but you will at least need a 400mm lens. 200 mm is insufficient. Better than using a 400mm lens is to get as close as possible to the game, and that's possible. It only takes some time. Some of the pictures for example were made with the 85mm lens. If you want to know more about my photo equipment click here. No artificial image processing like sharpening, color editing and so on has been used on the pictures. I'm not a professional so please be patient. Hope you enjoy the slides.

We found that the most beautiful places to stay in RSA are the Nature Reserves and National Parks. They are not only clean and proper but also affordable. Unfortunately this is not a tip anymore, you'll have to book in advance. Some of the Parks and trails require you to book one year in advance, because not only is the space limited but also the number of visitors on a trail.
Some of them rent chalets and houses sleeping two to ten persons but these are, most of the time, fully booked by south african citizens. If you've got a tent then your are lucky because most of these Reserves and Parks have got a campsite.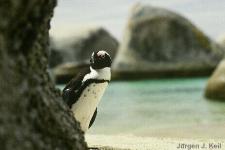 You'll need a car to really visit the countryside. The most beautiful spots cannot be reached by public transport. A few railroads exist that connect larger cities, and occasionally visit scenic spots, but thats not the normal case. Minibusses are a solution if you want to travel in a city but more remote places can only be reached by car. Taxis exist but are expensive for larger distances. So prepare yourself to rent a car. This is not that expensive but not cheap. We usually rent a car in advance to be able to pick it up at the airport and drop it there when we leave, we found it to be the most convenient method. Every major car rental company has got branches in South Africa, and their cars are (most of the time) technically okay. Cheaper, but with less support in RSA are the local car rentals. Some of them can be booked via the internet as well. We tried

Avis,

Hertz,

Budget and the local company

Felix Unite. The car rental companies we did not use so far are:

Tempest and

Imperial. Perhaps you can tell me about your experiences. I usually travel as a backpacker. If you want to know what equipment I use and how click here.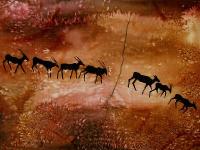 A simple list of what you can do when visiting South Africa will for sure blast the storage space of my web space. Thus I can mention only a few things. What I prefer to do is mountainbiking, game viewing and trecking. The landscape is breathtaking and differs so much in the Western Cape. From beautiful coastal lines with magnificent beaches and rocky cliffs to deserts and semi deserts, jungles, wineyards, forests and almost alpine mountain ranges. Have a look a the regions of the western cape. Cape Town is special because it combines urban living (Theatres, Jazz clubs, live concerts, markets, shopping malls) with the opportunity of doing outdoor activities (abseiling the Table mountain, kloofing, paragliding).
When looking for some souvenirs to bring back home consider the rural art that is sold downunder. The artists come from all over Africa and they sell masks, paintings, CD's and many other things. What I prefer are the paintings that are based on the rural Bushmen rock paintings. As a present I can offer you to download a wallpaper picture created from a silk painting by the South African artist

Sarah Mackie . Click on the picture to enlarge it and click right on it to save it to your local harddisk.
For more information about South Africa visit:
Special thanks goes to my precious friends in South Africa: Jasmine, JJ and last but by no means least Sarah. Thanks for your hospitality and explaining to me your world. My world wouldn't be same without you.