Mountainbiking
A few years ago in 1995 a friend of mine bought a Cannondale mountainbike. We made a few tours together with me on a trecking bike. After a few tours I knew that this was fun and I wanted to have my own mountainbike. It took until 1996 for me to afford one. Since then this is my favourite sport.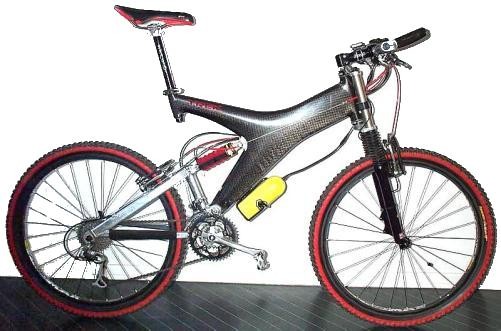 Photo of my bike (click on image to navigate this page)
In 1996 I bought a

Trek Y22 Bike, a full suspension bike with an Y style frame design made out of carbon fibre. It was equipped with a

Shimano LX component and I could convince the dealer to replace it with XT parts at no extra charge.
A contoverial discussion was held about what is "better": A Fully (Full Suspension Bike) a Hardtail (no rear suspension) or no suspension at all. If weight is not a problem than things become easy. Riding a fully is so much more comfortable. Even after some hours of riding on rough trails, your arms shoulder and spinal feel much better than with no suspension. The only drawback of a rear suspension might be that the suspension compresses whenever one tries to climb a mountain standing on the pedals. Each time you put load on the pedal the rear suspension comresses and sometimes you feel like your energy goes more into your suspension than putting you forward. That is the main reason why I prefer to be able to lock the rear suspension.
Rear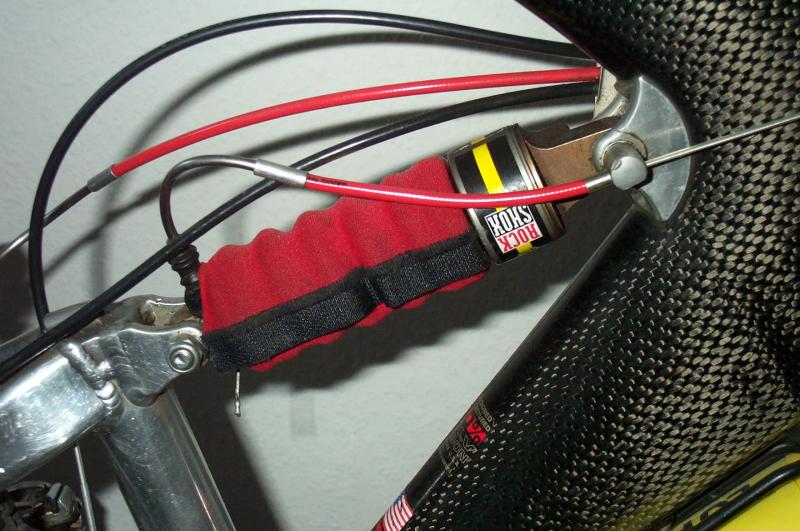 The first thing that broke was the Fox Alps 4 rear suspension. The part was repaired, but I asked the guy in the shop if it's possible to replace it with a Stratos Strata rear suspension, the one that could be locked and was used on the Y33 at that time. He replaced it and it took me only one day until this part broke. It was again replaced and broke again. To make it short: it broke four times until I replaced it with a

Rock Shox Super Deluxe, a special version made for

Gary Fisher bikes. It has an adjustable damping that can be controlled remotely. All I had to do was connect an additional shift lever to the RockShox rear suspension using the RideOn cable. To make the cable going smooth I used a part of the Shimano V-brake to create a curve for it. Additionally I was able to protect the cable from dirt.
Front
Originally the bike was equipped with a Rock Shox Judy XC, but after changing the rear suspension the front did not fit anymore. So I replaced it in 1998 by a Rock Shox Judy XL Long Travel double bridge fork with 10 cm travel. Unfortunately the damping unit leaked after approximately 500 kilometer. It had to be replaced for about 200€.
I replaced the original Headset with a

Chris King NoThreadSet Headset, after I heard cracking noises somewhere from the front of my bike.
The bike was equipped with Shimano XT v-brakes. Whenever I used them they made a terrible sound. It stopped after I added the Shimano brake repair kit and added Shimano XTR SM-V950 Brake Booster to both the front as well as the rear brakes. The original 96' XT Shift/Brake lever combination was later replaced by separate parts. I now use the XTR BL-M950 Brake Lever.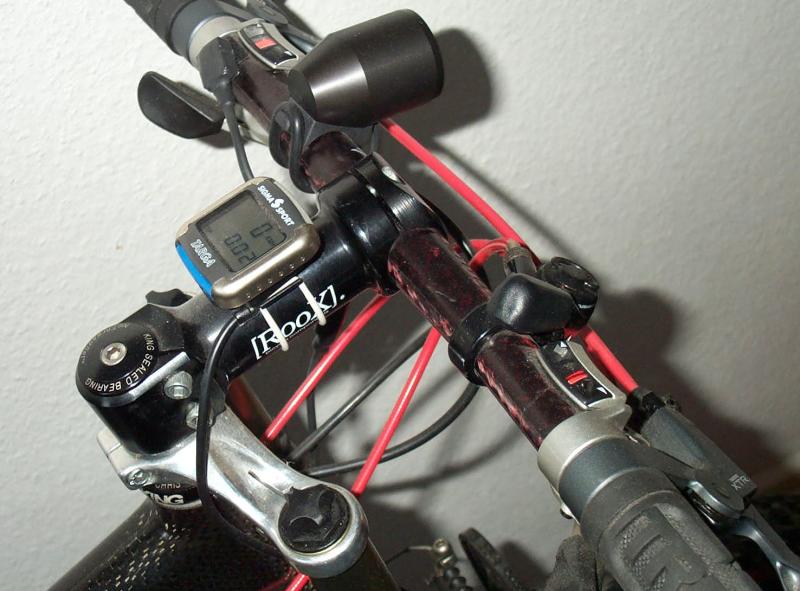 I suggest you to try to bike at night, it really is a special feeling and I enjoyed it a lot when I first did it. But to do biking at night you'll need a special lighting system. One that really makes day out of night. I checked several ones but the one that is shiny and where the light beam lights a large area in front (and top) of the trail was a

Lupine Babylu, with a 16W Krypton lamp. It has a computer controlled remote control unit (Rüdiger) than can be used dim the lamp to 8 watts. The rechargeable batteries are hidden in a sort of bottle that can be placed in the bottle holder. The only disadvantage of the system is that the batteries need 9 hours to be recharged and that the cell will last only 2 hours when the babylu operates on full power. One can greatly improve the lifetime if you use Rüdiger to reduce the light to 8 watts. Most of the time this is sufficient.
In 99 (or was it 98) Shimano introduced the 9 speed system. I wanted to have one so I had to replace the 96' XT component by the XT SL-M750 Shift Lever.
I first tried a downhill handlebar, and I felt more comfortable because it made a more upright seating position. But after changing the front suspension I felt the handlebar was too high. I replaced it by a

Specialized thermoplastic handlebar. It weights about 150g in contrast to the downhill one which was about 600g. I think the thermoplast is stable enough (at least the way I bike), especially because I use the fork with steel springs and 10 cm travel. That really reduces the load on the handlebar.
I first tried a System stem (the one that came with the bike), but after changing the front suspension it made a more upright seating position that wasn't comfortable anymore. I replaced it by a RooX stem that was a bit longer and had 0 degrees.
I first used large barends that were simply some sort of tube; means that they didn't fit well in my hand. Now I use carbon fibre barends that are designed to fit your hand. They are somehow shorter and haven't got any sharp edges on it. I can rest my hand in different positions on them without feeling uncomfortable even after a some hours.
The original wheels were replaced by

Mavic Crossmax wheels. They are not that stable but incrediblely lightweight.
To get a 9 speed system I also had to change the 96' XTR cassette by a XTR Cassette with 11 to 34 Sprockets. I never needed to change the following 96' parts: the XT Bottom Bracket, XT Front derailleur, XT Rear derailleur and the XT Crankset.
I sometimes do not feel comfortable with the XTR PD-M747 click pedal especially on tricky singletrails, but I don't want to have any other pedal anymore. It's so easy to get in and out. You're really stuck to your bike using these pedals. It takes some time to get used to them but they never open too early, they can be adjusted to fit to almost any situation and you can get in and out easily even if they are covered with mud.
The Saddle is the worst thing to buy. The demands are so different for everbody, that no-one can give general rules.
I'm now comfortable with the

Fi'zi:k Nisene titanium saddle.
I changed the standard seatpost of the Trek Y22 and now use a

Syncros seatpost. There was no real reason to buy a new one. But the "coolness factor" of a syncros alloy seatpost is much higher than of any other.
First start with the most controversial part of the clothing the
Helmet
I don't want to start a flame war but I use most of the time a

Giro helmet. My girlfriend had a terrible accident when she fell off her bike with her face into loose gravel. Now this is some years ago and when we think about it, we know that the helmet didn't help her. I'm not sure whether the helmet would help me if I really need it, so sometimes I use one sometimes not.
Shoes
Mountainbike shoes need to fulfill special requests. First the sole must be stable, must not bend when you put load on it. Second (and somehow in contrast to the first point) they have to be comfortable walking shoes, because sometimes you'll have to walk quite some time with your bike on your shoulder, when the trail is too difficult, too steep or whatsoever. Be sure to buy one where the straps don't bend. I now use the Camrac shoes and I think they are quite good.
Rain clothes
I tried a two layer

Gore RideOn GoreTex jacket but I think it is not breathable enough. It protects you from rain but I become wet from inside just because I sweat too much. I now use the Gore Activent windstopper jacket which isn't really waterproof but protects you from light rain. It is sufficient to protect you until you find shelter. It is waterproof for perhaps one hour (depending on how heavy it is raining).
My favourite trails are in the

Eifel a small mountain range not a hundred kilometers southwest of

Cologne (Germany). The "Geo-Pfad" trail there near

Hillesheim (Eifel) is fun to ride. Other trails can be found in the

Bergisches Land 20 kilometers east of Cologne. I have also found lots of other trails to be extremely good. One of these is the Jonkershoek near Stellenbosch (South Africa) is a marked MTB-trail (be sure to turn left when you enter the gate of the park). In South Africa be sure to visit the Tokai Forest in Cape Town (with lots and lots of singletrails left and right of the gravel road) and the Cederberg region near Clanwilliam and Citrusdal, which really was fun to drive although I had 4 punctures on one day. I was told that the Helderberg MTB-trail (near Somerset West) is good, and I went there in 1998 but I found it to be disappointing, perhaps because a fire burned half of the forest only one week before I got there. Perhaps it's better now.
There are other great sources for information: